Areas of Interest in Woodsboro
Town Offices:
Corporation of Woodsboro
Mary E Rice | Town Clerk
Council Drive
P.O. Box 88
Woodsboro MD, 21798
Phone: (301) 898-3800
Places to See in Woodsboro
---
Woodsboro Park
Woodsboro Park is a 102-acre place of beauty and recreation. It is home to the Woodsboro/New Midway Recreation Council.
Here you will find playgrounds, fishing for trout in spring, sledding in the winter, and Frisbee Disc Golf year round. The town offers 3 pavilions available for rent through our town office.
---
Woodsboro Park Disc Golf Course
Course Map — Coming Soon!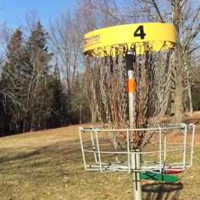 The course is scenic with strong elevation changes, good mix of wooded and open holes, with water coming into play on a few holes and the course is a 2015 redesign.
Course Type: Permanent
# Holes: 18
Target Type: DISCatcher
Tee Type: Grass/Dirt
Elevation: Mostly Hilly
Foliage: Woodsy
Course Length: 6,560ft
Alternate Length: 3,777ft
Hole Length: Under 300ft: 3 | 300 – 400ft: 10 | Over 400ft: 5
Course Designer: Fredrock Disc Golf Club
Stats from PDGA
---
Woodsboro Historical Society
The Woodsboro Historical Society, Inc. is dedicated to promoting a public understanding of the history and antiquities of Woodsboro, Maryland, and pursuing the collection and conservation of the record thereof. They intend to acquire, maintain, restore, and preserve monuments, structures, ancient articles of personal property, and any other areas deemed to be of historical significance to the Woodsboro community.
The Woodsboro Historical Society's Train Museum is now open to the public.
The museum may be visited on the SECOND Saturday of each month from 1 to 4 PM EST.
Stop by to experience the expertly restored Train Station, along with an impressive collection of era memorabilia and photographs of Woodsboro throughout the ages.